The Power of Nature: Greenery and Foliage in Wedding Decor
In a world where weddings often come with hefty price tags and elaborate themes, there's a growing trend that embraces simplicity and the beauty of nature. The use of greenery and foliage in wedding decor not only offers a cost-effective solution but also adds a touch of natural elegance to your special day.
The Beauty of Greenery
Greenery represents freshness, vibrancy, and life itself. It's a symbol of growth and new beginnings, making it the perfect choice for wedding decor. Here's why greenery is a powerful element to consider.
Timeless Elegance
Unlike trends that come and go, greenery is timeless. It offers a classic and sophisticated look that will never go out of style.
Versatility
Greenery can complement a wide range of color schemes and themes. Whether your wedding is rustic, bohemian, modern, or traditional, greenery can seamlessly fit in.
Cost-Effective
One of the most significant advantages of using greenery is its cost-effectiveness. It's readily available and budget-friendly, allowing you to allocate more of your wedding budget to other essential aspects.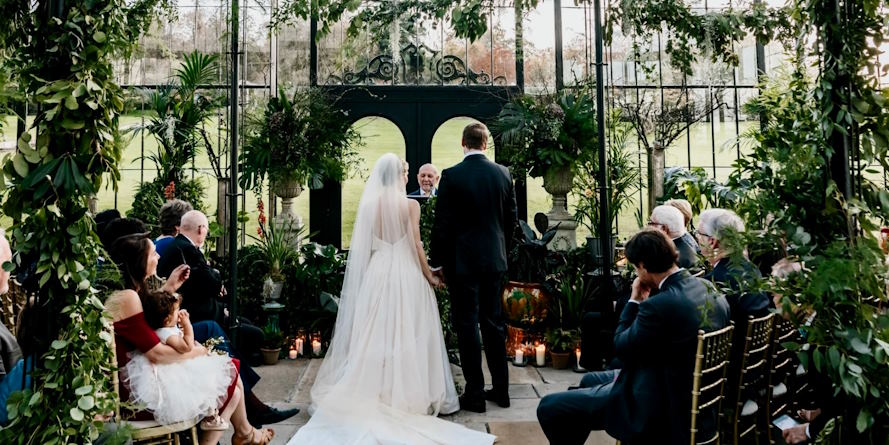 Incorporating Greenery and Foliage
Eucalyptus
Eucalyptus is a popular choice for adding a touch of elegance to your wedding decor. Its delicate, silvery-blue leaves and subtle fragrance can be used in various ways. Consider creating eucalyptus garlands for table runners or draping them around arches and ceremony backdrops. Eucalyptus is also ideal for boutonnieres and bridal bouquets, giving them a soft, natural feel.
Ferns
Ferns, with their lush green leaves and intricate patterns, bring a sense of enchantment to any wedding setting. Use ferns to decorate your reception tables, centerpieces, or even as part of your place cards. Their feathery appearance pairs beautifully with rustic or woodland-themed weddings.
Succulents
Succulents are a unique and eye-catching addition to your wedding decor. Their quirky shapes and low-maintenance nature make them popular for modern and boho weddings. Place succulents in terrariums, as table centerpieces, or even as favors for your guests to take home as a reminder of your special day.
Greenery and Foliage: A Harmonious Blend
To create a harmonious blend of greenery and foliage in your wedding decor, consider the following tips:
Experiment with different types of greenery and foliage to create an interesting, layered look. Combine eucalyptus, ferns, and succulents to add depth and texture to your decor.
Frame your wedding ceremony space with lush greenery arches, or line the aisle with fresh ferns. It creates a picturesque backdrop for your vows.
Elevate your reception decor with cascading greenery chandeliers, lush table runners, and garlands on the head table. These elements add a touch of natural beauty to your reception.
Incorporate greenery and foliage into your bridal bouquet and the groom's boutonniere for a cohesive and natural look.