Dressing for the Seasons: Attire and Color Palette
Your wedding attire reflects your style and the theme of your special day. The season in which you choose to get married can significantly influence your attire and color palette.
Spring
Spring weddings are all about embracing the freshness and vibrancy of the season. For brides, lightweight and breathable fabrics like chiffon, tulle, and lace are ideal. Consider dresses with delicate floral embroidery or lace details to capture the essence of blooming flowers. Pastel colors such as blush, soft mint, and lilac are popular choices, reflecting spring's soft and airy feel. Bridesmaids can don floral-print dresses to add a touch of garden charm.
For grooms, light-colored suits or tuxedos in shades of gray, light blue, or even pale pink are stylish and season-appropriate. Opt for lightweight fabrics to stay comfortable under the spring sun.
Summer
Summer weddings call for attire that keeps everyone cool and comfortable. Brides may opt for sleek, minimalist gowns made of lightweight materials like silk or organza. Consider open-back designs, off-shoulder styles, or even a bohemian-inspired dress for a beach wedding. When it comes to colors, think of bright and cheerful palettes. Shades of coral, aqua, or sunny yellow are perfect for summer bridal parties.
Grooms can stay dapper in lightweight linen suits or casual attire like khaki pants and a crisp white shirt. Light and breathable fabrics are essential to prevent overheating in the summer heat.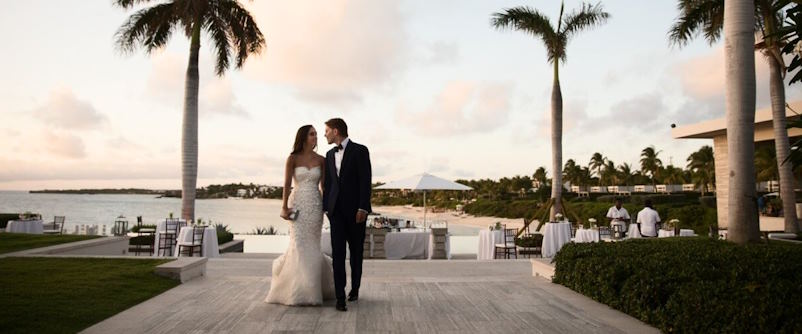 Fall
Autumn weddings offer the opportunity for rich and warm fashion choices. Brides can choose gowns with long sleeves, intricate lace, or elegant satin. Deep, moody colors like burgundy, forest green, and rust are popular for fall bridesmaid dresses. Consider adding a touch of vintage charm with accessories like a faux fur stole or a statement headpiece.
For grooms, a classic charcoal gray or navy suit is a timeless choice for a fall wedding. Rich earthy tones like maroon, deep brown, or olive can be incorporated into ties, bowties, or vests to add a seasonal touch.
Winter
Winter weddings exude an air of elegance and romance. Brides can opt for long-sleeved gowns with intricate beading or luxurious fabrics like velvet or silk satin. A fur stole, or a cape can be a stunning addition, not only for style but also to keep warm. Color palettes for winter weddings often feature icy blues, deep reds, or metallic shades like silver and gold.
Grooms can embrace the formal atmosphere of winter with classic black tuxedos, complete with a bowtie. Dark suits in navy or deep charcoal are also fitting choices.